About our Shop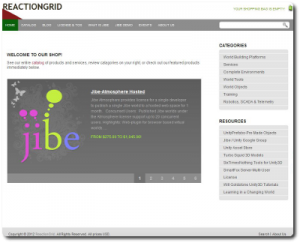 ReactionGrid's online shop allows you to browse our entire catalog of products and services.
Looking for a hosted solution?
You can choose to have your Jibe world hosted on ReactionGrid's servers.
Do you prefer self-hosting?
ReactionGrid offers a Jibe package you can install on your own hardware behind your own firewall.
Need help building your 3D world?
As a full production studio, ReactionGrid also provides Custom Development and Consulting Services using Unity3D and the Jibe platform.